On 12 May 2020, Gabriela delivered remarks at the UN Women High-Level Roundtable on Gender Equality and COVID-19 Crisis and Recovery: the G7's Role. Find below her remarks delivered on the topic of "women and entrepreneurship in COVID-19 crisis response and recovery."
For more information consult the UN Women press release.
---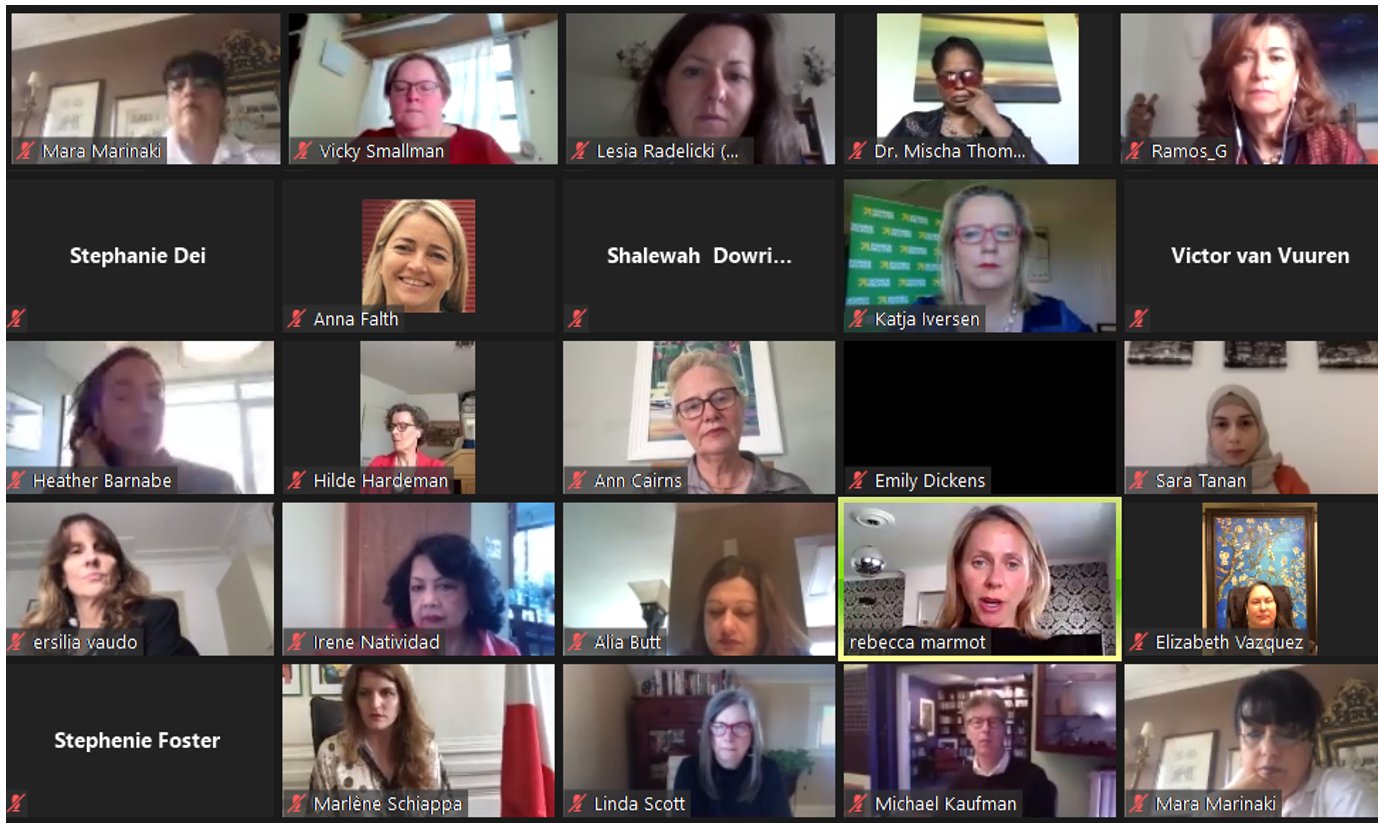 I'd like to thank EU, UN Women and ILO for organising this important meeting, following up on the G7 commitment. And also great to see B4IG partners here today [Unilever, L'Oreal].
Indeed, since the G7 Leaders endorsed the G7 Principles on Women's Entrepreneurship in 2015 (with the support of the OECD), successive G7 Presidencies have made enormous efforts to advance women's business as one of their priorities.
Still, far fewer women than men start, run and maintain their own businesses.

Women are almost half as likely as men to be involved in starting a new business in the EU.

Only 5% of women in the EU were established business owners between 2014 and 2018, which was below the share of men (8.4%)

Female founders are less likely than male founders to have a successful exit (9% vs. 13%).

These gaps exist often because of a mixture of economic and cultural barriers.
Women lack access to finance, markets, skills, leadership opportunities and networks.
And these cultural barriers may play a systemic role in creating specific market failures.

Stereotypes and lower exposure of women to role models can explain why women report a lower interest in an entrepreneurial career, and often believe they are not capable to become successful entrepreneurs. Women are more likely to report a fear of failure than men (42% vs. 36% across the OECD).

Only 37.7% of women (compared to half of men) in the OECD countries felt that they had the knowledge and skills to start a business.

Women report using bank loans less frequently than men do, instead relying on personal savings and spousal funds to start their businesses.

Self-employed women earn significantly less than men across countries (35% on average across the G7 countries).

Furthermore, female entrepreneurs have "double assignments", running an enterprise and a household at the same time (women spend up to ten times as much as men globally for unpaid work).

The COVID-19 crisis will only exacerbate these existing gender gaps in business.
The OECD has conducted a survey since February, and found that more than half of SMEs are already experiencing severe drop in revenue. 1/3 fear to be out of business without further support within 1 month. Today, three months into the COVID-19 crisis, women-owned businesses will continue to suffer from liquidity shortage.
Of course, governments have been taking action to support the self-employed by:

Raising the amount of funding available for loan guarantees significantly [i.e., Austria, Germany, Italy, France, Portugal, Switzerland, UK].

Intensifying guarantee schemes to banks to strengthen loans to SMEs [i.e., Austria, Belgium, Denmark, Estonia, Finland, France, Germany, Greece, Hong Kong China, Ireland, Israel, Italy, Japan, Korea, Lithuania, the Netherlands, Poland, Portugal, Saudi Arabia, Singapore, Spain, Switzerland, UK.

Many countries are providing subsidized online training course (i.e., China, Australia) or provide counselling service for entrepreneurs (i.e., Finland, New Zealand).

However, NONE of the actions to date have focussed specifically on women-owned businesses!
To emerge stronger from the crisis, we need TARGETED policy measures to protect women-owned business in the recovery efforts.

We need improved access to financing through credit guarantee schemes for women entrepreneurs.

We need training programs and counselling services to help female enterprises survive and come back stronger from the crisis.

More importantly, we need to continue fighting for more female role models. Because we cannot be what we cannot see. We need inspiration, we need encouragement, we need peer support.

Currently, women only make up 25% of boards of the largest publicly listed companies in the OECD, and only 5% of Fortune 500 CEOs are women. Increasing women's leadership will contribute to improved access to networks of supporters, making them more resilient to future shocks.
We cannot wait until women entrepreneurs are hit disproportionately by the economic fall-out. Apart from immediate financial support to support the business survival and continuity, governments now have the opportunity to promote family friendly policies, dual parenting programs and equal share of unpaid work.
The measures government take now will determine the post-COVID world, and the public-private alliance of WE EMPOWER can represent women's voices to make sure the new normal will be more gender inclusive than before!
Let me hear your experiences going through this crisis to identify some missing elements in our response and recovery efforts.